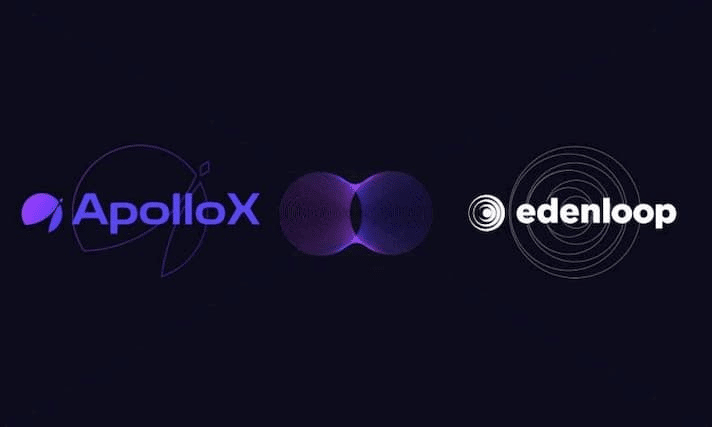 EdenLoop, an open-designed marketplace for non-fungible tokens (NFTs), has announced a successful partnership with global decentralized service protocol ApolloX to expand its NFT market ecosystem.
In an August 19 announcement, the non-fungible token marketplace confirmed the successful integration with decentralized service ApolloX. The new integration will create an opportunity to expand the scope and add new products to the ecosystem.
EdenLoop And ApolloX Integration
ApolloX is a decentralized solution shaping the Web3 market for retailers and institutional traders. Remarkably, ApolloX ranked one of the top 10 decentralized exchanges (DEXes) on CoinMarketCap as of June 2022 with a record of $162.51 billion trading volume and top 3 DEX as of January 2022.
In 2023, Apollo anticipates executing its roadmap and improving its degree of decentralization. Moreover, the decentralized exchange will expand its network with platforms and notable companies like CoinMarketCap, PancakeSwap, and Banxa Holding.
On the other hand, EdenLoop is an NFT portal that stood out from the blockchain play-to-earn (P2E) market. The NFT marketplace is one of the projects attracting global investors over its technological prowess and pioneering in new markets. EdenLoop is renowned globally as an NFT portal with the funding of 50 million dollars in 24 hours on the Gate.io startup event.
In a relatively short analysis, EdenLoop has surpassed its mother company MARBLEx. Figures show that EdenLoop gained more attention than Netmarble, with 2,055.9 billion won sales revenue against 154.5 billion won income in 2021.
Under the new integration, EdenLoop anticipates leveraging ApolloX capabilities to expand the NFT ecosystem. While commenting about the integration, a senior official from the EdenLoop, remarked:
"The cooperation of the ApolloX DEX Engine and EdenLoop's BlockLoop Engine is expected to expand the ecosystem in EdenLoop by adding new products to ecosystems that provide decentralized services (DEX-as-a-Service). Users expect having more control, value, and accessibility in using virtual asset transactions on EdenLoop's NFT portal."
EdenLoop And ApolloX Partner To Expand NFT Market (business2community.com)