Greetings. Due to gate.io host Tom's health reason we have to reschedule today's live AMA with Gate.io's
to 8 September 2022, 11:00 UTC
We apologize for the inconvenience  especially those who had waited just for today's AMA.
We promise to bring you a more exciting AMA LIVE on 8 September!
Thank you
EdenLoop Team
(+)
Hello. First of all, I would like to apologize to our holders who have been waiting for the special AMA live.
AMA was also announced on Gate Io's official Twitter account  that today's Live AMA was scheduled to be held at 8 p.m. on September 8 (Thu). Due to the sudden leave of the AMA manager of Gate.io who was in charge of communicating with Eden Loop, before his leave he did not handover properly to the new person in charge.
Due to this, the schedule has been disrupted, and the attached image is the clarification from Gate.io.
In such circumstance, it is unreasonable to go on with the AMA, so we are discussing to reschedule with Gate.io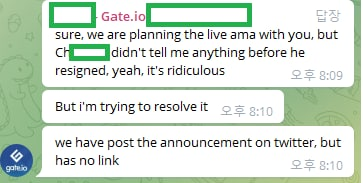 [AMA schedule]
14th SEP 13:00 UTC
[Live on]
https://www.youtube.com/c/GateioCrypto
Once again, I apologize to our holders who waited for the AMA.