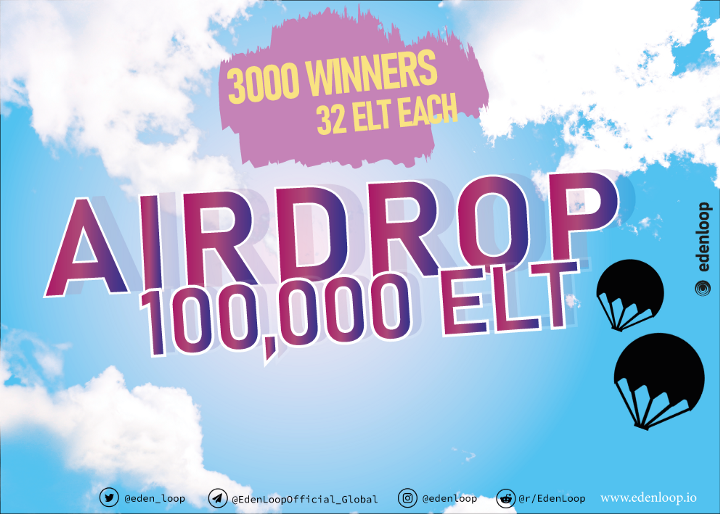 Hello EdenLoop Community,
We've launched our EDEN LOOP TOKEN (ELT) community airdrop reward round one last week and it ended quick as a lightning in just 5 minutes after announcement.
This time we would like to incentivize our community members with a larger reward pool of 100,000 ELT in airdrop round 2. We appreciate all of you for staying with EdenLoop and also we want to welcome new members to our community.
We would like to raise our project's awareness, and to expand our community pool through the airdrop reward.
REMEMBER.
We make sure to go bigger and leap a step higher to Metaverse with our community, so stay with us till the end. TO THE MOON!
Are you ready? Let's go!
Total Reward Pool: 100,000 ELT *first come first serve basis*
When: 27 January 2022 (10:00 UTC) ~24 February 2022 (may end earlier)
Distribution: 25 February 2022
You just have to follow the steps below to earn 32 ELT!
1. Join the Airdrop bot.
@EdenLoop_airdropbot(https://t.me/EdenLoop_airdropbot)
2. Follow the steps of this airdrop bot and earn at least 32 ELT.
3. You can invite 5 friends max. via referral link to get more rewards!
Note:
Each participant will get 32 ELT and 4 ELT for each referral. Participants who've joined round one are also eligible to take part in round 2.
Good Luck Everyone!