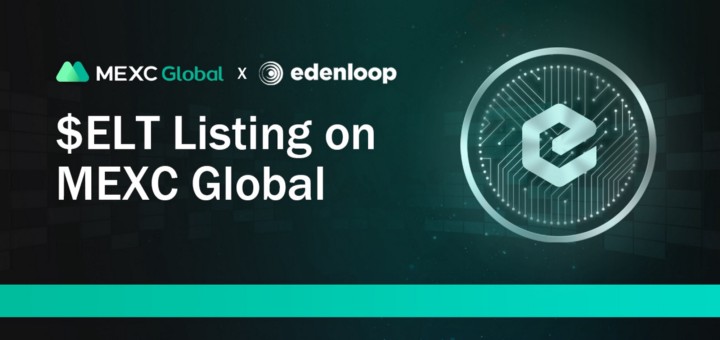 Greetings EdenLoop Community.
We are excited to announce EDEN LOOP TOKEN (ELT) is listing on MEXC Global.
Wallet opens: available now
Market opens: April 5, 2022 09:00 UTC
ELT is governance token issued for EdenLoop ecosystem to trade NFT. EdenLoop is building a system where sellers, buyers, resellers, and auction traders, owners too will be rewarded in ELT.
MEXC Kickstarter Airdrop Event
Users can stake MX tokens to participate in voting and stand a chance to win free project airdrops.
Voting Period:
2022–04–04 03:30–10:50 (UTC)
Estimated Trading:
2022–04–05 09:00 (UTC)
Deposit & Withdrawal:
Opened
Reward Pool:
90,000 ELT for all users; 27,648 ELT for affiliates only
Price:
0 USDT (Reference Price: $0.30)
Voting Token:
MX (Voting cap: maximum 500,000 MX)
Requirement:
Minimum 10 votes (1 vote = 1 MX).
Rules:
The tokens used for voting will be temporarily locked during the event period and will be unlocked within an hour once the event concludes. Users can vote as many times as they wish before the voting period ends.
Rewards:
The airdrop rewards will be distributed proportionally within an hour according to users' total votes once the event concludes.
For more details please visit: MEXC Kickstarter - Vote to Win Free 117,648 EdenLoop (ELT) Airdrops! – Announcement
Spoiler!!!

ELT will be listing on Korean exchange real soon!
We will soon announce EdenLoop tokenomics and the "Garden of Eden", a virtual world project that our team has been joining force with fellow members and partners for a long time. All moves the team took from the start are heading to what we are pursuing, and enhances their technology and infrastructure will be the icon in blockchain ecosystem.
STAY TUNED. Something bigger is coming.